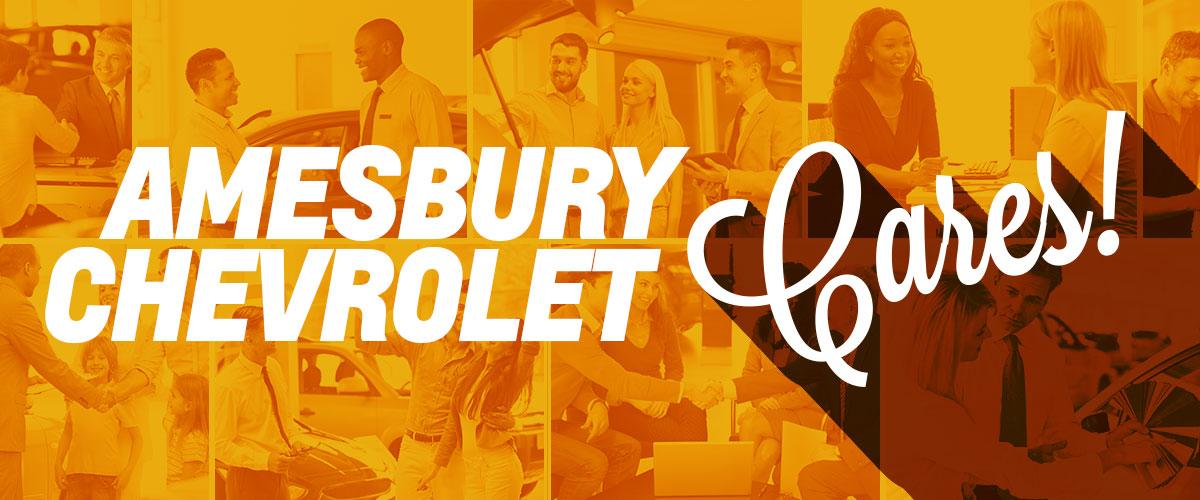 Read about various upcoming and past events our dealership has participated in. Keep your eyes peeled for more coming soon!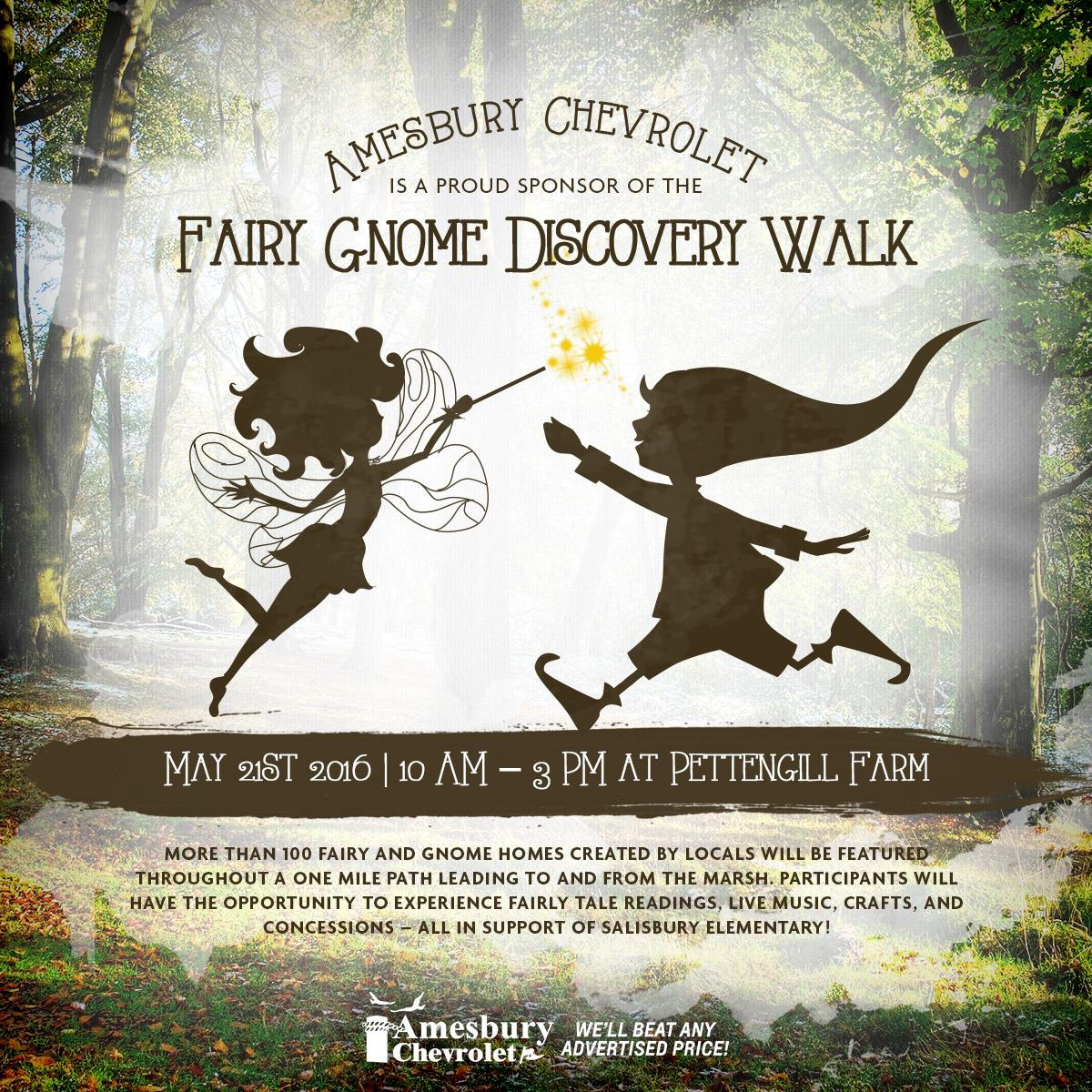 Amesbury Chevrolet is a proud sponsor of the Fairy Gnome Discovery Walk on May 21st, 2016 from 10 AM - 3 PM at Pettengill Farm (45 Ferry Rd. - Salisbury MA). More than 100 fairy and gnome homes created by locals will be featured throughout a one mile path leading to and from the marsh. Tracy Kane, author of the
Fairy Houses
series of books, will be doing a book reading and signing at the event. Participants will have the opportunity to experience fairly tale readings, live music, crafts, and concessions - all in support of
Salisbury Elementary!
Find out more
here
, and don't forget to come out and support the children of Salisbury.
Amesbury Chevrolet is a proud sponsor of the Amesbury Little League! We love supporting our local community, and what better way to show the youngest Amesbury citizens we care than by supporting local youth baseball? Amesbury Little League is proud to host leagues for children of all ages, from t-ball to the "majors!" Catch games this summer at Amesbury Town Park, and Cashman Elementary. You can find online
schedules
,
rules
, and information about
registration
on the
Amesbury Little League website
. Opening day is April 30th. We'll see you there!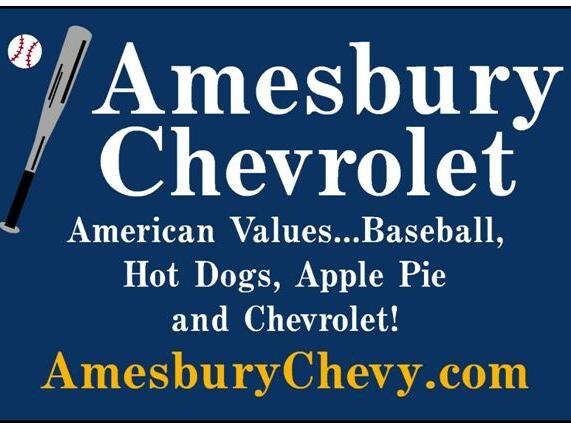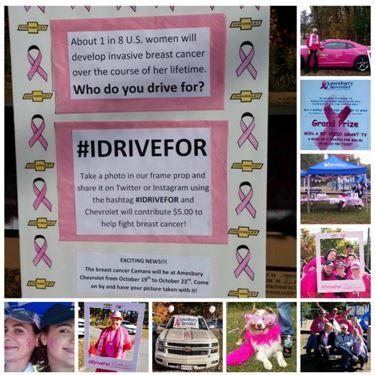 In October 2015, Amesbury Chevy was honored to take part in General Motor's #IDriveFor campaign in support of breast cancer research. For every use of the #IDriveFor hashtag on social media, Chevrolet made a $5 donation to the American Cancer Society to Make Strides Against Breast Cancer. Over ten thousand posts were made using the hashtag on Instagram. Chevrolet has been working to take on breast cancer in partnership with the ACS for five years. In 2014 alone, $1.2 million was raised to fight this battle. With your help, we can exceed that amount every subsequent year! If you would like to make a donation, please visit the
American Cancer Society's website
. Here in Amesbury, we were pleased to host the pink Camaro for a few days in the past two years, which customers loved taking pictures with. The Camaro wasn't just for looks; Chevrolet made a donation of $10 to ACS for every test drive in the rosy car. We have also participated in and sponsored the Making Strides Against Breast Cancer walk for several years, bringing the Camaro with us. Read more about the walk and our participation
here
.
We only get a February 29th every four years, which is why this Leap Day, Amesbury Chevrolet wanted to #DayItForward! With our extra day, we headed over to Heav'nly Donuts and purchased donuts and coffee for patrons. We also took a trip to The Home Depot and passed out some gift cards. Our purpose was to promote kindness and do something nice for the community we hold so dearly.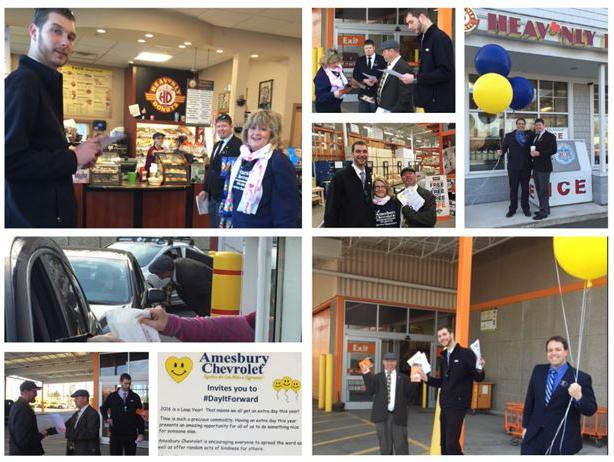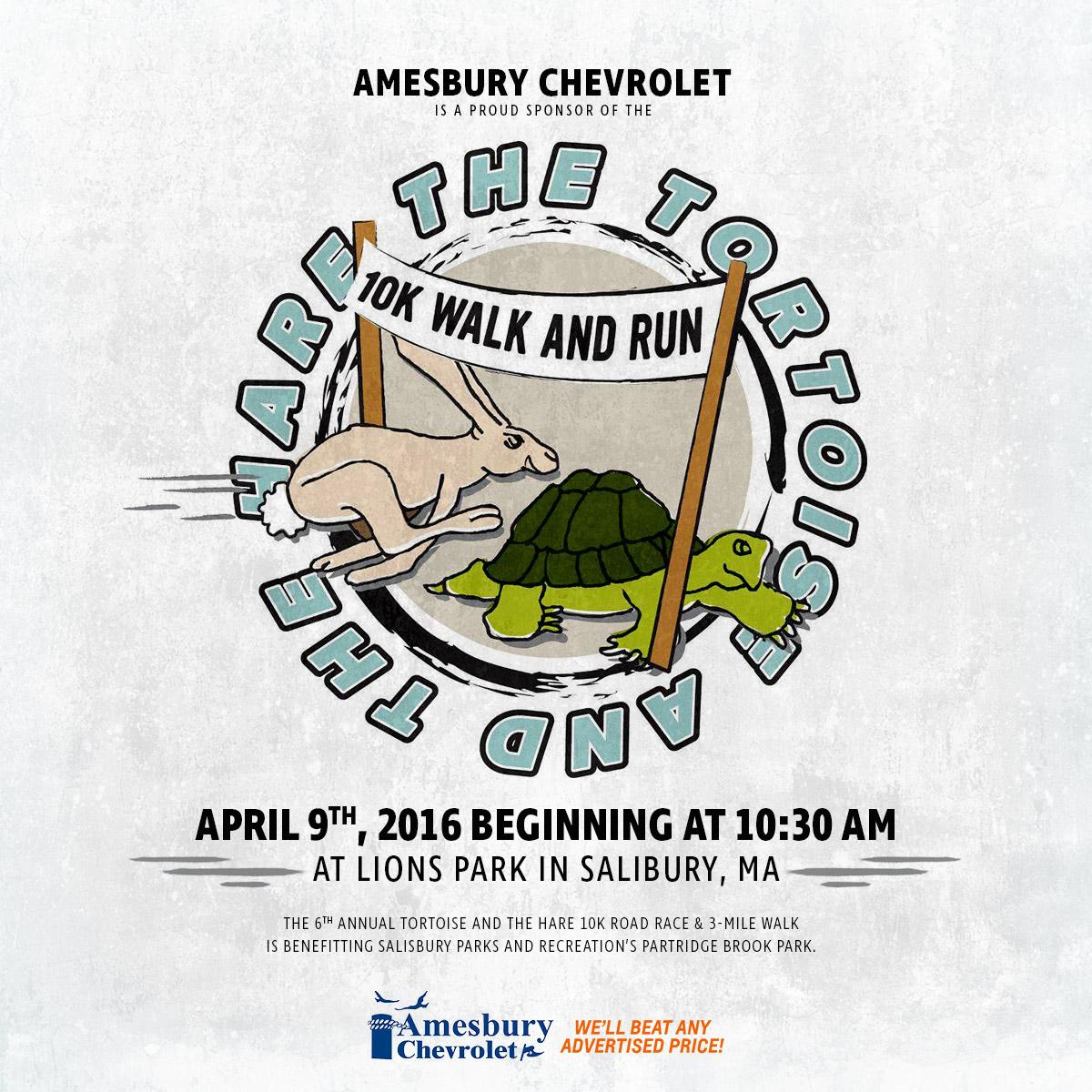 Amesbury Chevrolet was a proud sponsor of the
Tortoise and Hare 10K Road Race & 3-Mile Walk
on April 9th, 2016 beginning at 10:30 AM at Lions Park in Salibury, MA. The 6th annual Tortoise and the Hare 10K was held in benefit of Salisbury Parks and Recreation's Partridge Brook Park. It was a great time, and we had a lot of fun!
In February, we hosted Heart to Heart. Many thanks to our incredible volunteers who took the time to read 6,000 Valentine's Day cards created by local school children for the purpose of distributing them to Massachusetts veterans. A special thanks goes out to both Dr. Maris Ditolla (who co-sponsored the event with us) as well as the local VFW (who is sponsoring the postage for the cards). You can read more
here
. Below are the hospitals where cards were distributed on Valentine's Day:
Bedford VA Hospital in Bedford, MA 
West Roxbury VA Regional Hospital in West Roxbury, MA 
Gloucester VA Clinic in Gloucester, MA 
Lynn VA Clinic in Lynn, MA 
Hyannis VA Center in Hyannis, MA 
Framingham Veteran's Outpatient Center in Framingham, MA 
Quincy Veteran's Outpatient Clinic and Medical Center in Quincy, MA 
Brocton VA Center in Brocton, MA 
Fitchburg VA Outpatient Clinic in Fitchburg, MA 
Pittsfield Outpatient Clinic in Pittsfield, MA 
Worcester Outpatient Clinic in Worcester, MA 
Springfield Vet Center in West Springfield, MA 
VA Boston Health Care Systems in Jamaica Plain, MA 
Chelsea Soldiers Home in Chelsea, MA Lowell 
VA CBOC in Lowell, MA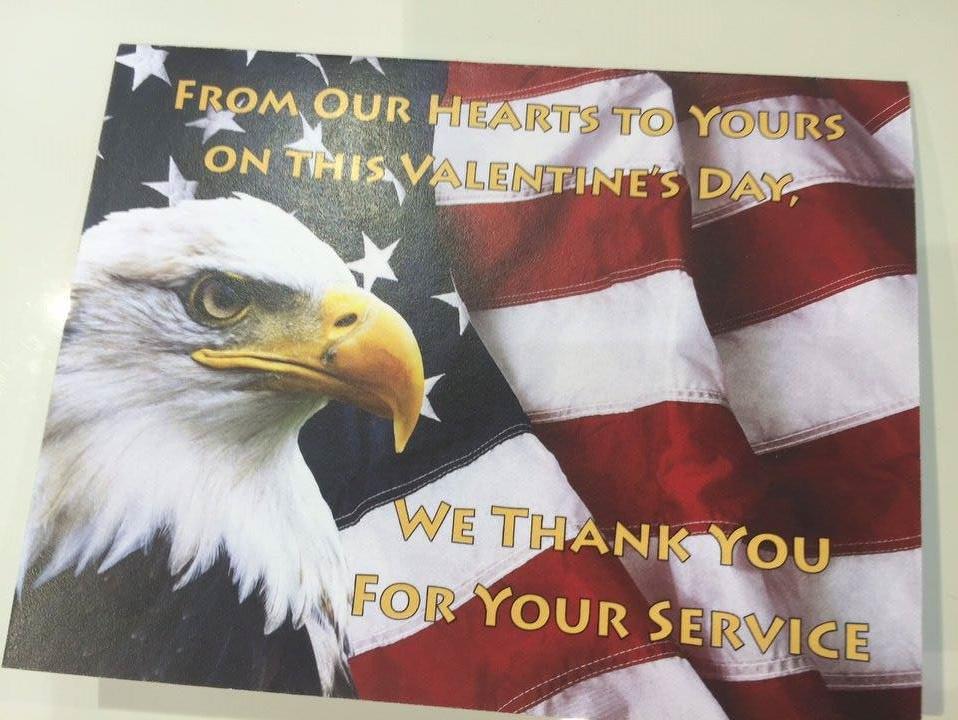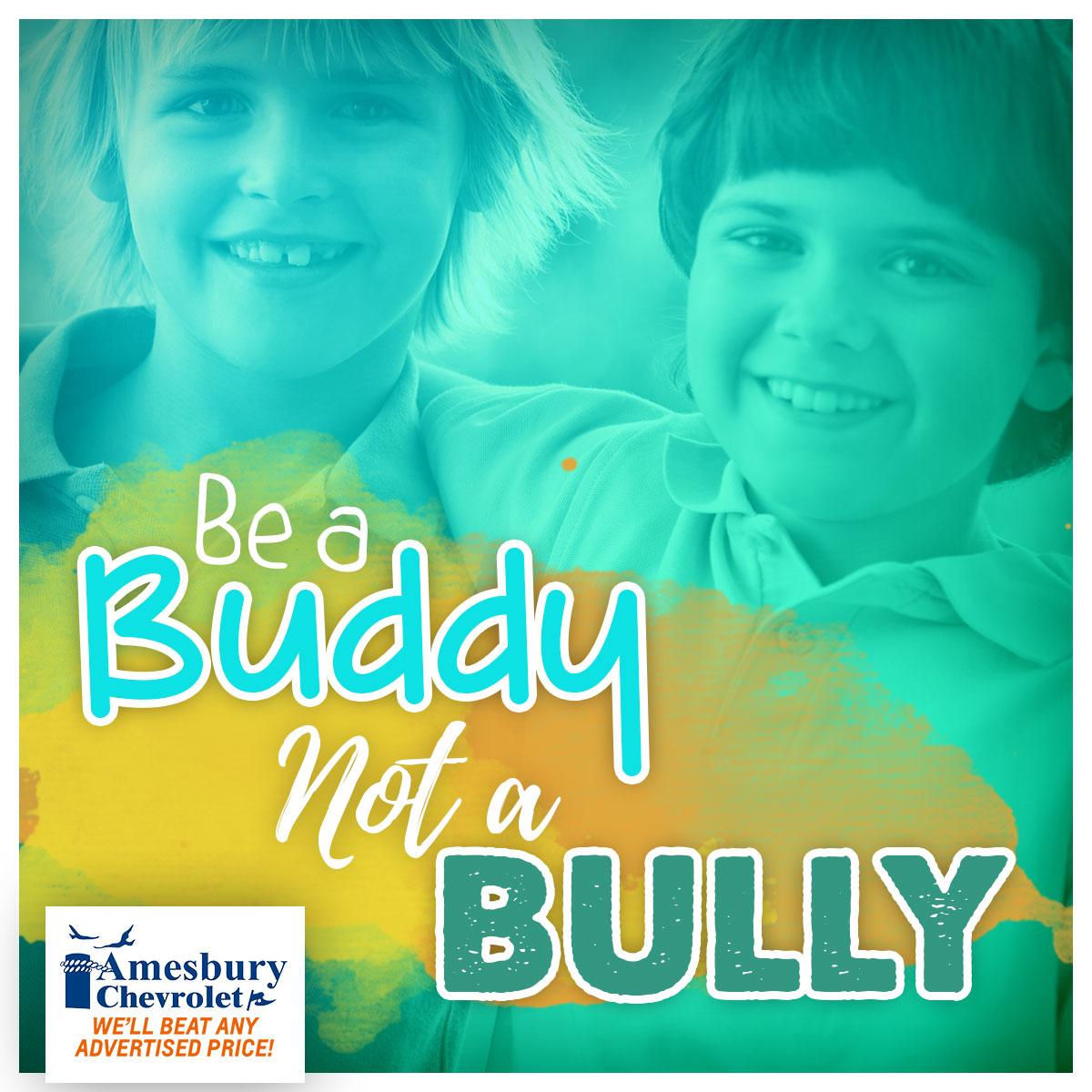 We value the littlest citizens of Amesbury, which is why we've made a concerted effort to end bullying in our community with the
Be a Buddy, Not a Bully
program. With help from Rosemary Werner, we have partnered to teach Amesbury students the importance of being kind to others. By providing wristbands to students with an anti-bullying message as well as giving students the opportunity to hear from community leaders about the topic of bullying, we believe we are
making a difference
.