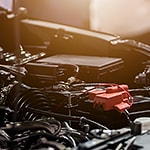 At Amesbury Chevrolet, Inc. in Amesbury, MA, we love to give our community tips about keeping their vehicles maintained in extreme temperatures. The car battery is usually affected by extreme temperatures, which you can avoid by ensuring it is maintained before the harsh seasons.
The extremely cold temperatures can affect your car's battery because it has to work a lot harder to make sure everything starts and runs well. There is a load increase as well as thicker engine oil when it is cold outside. The more of the temperatures outside and go down, the more your battery has reduced capacity, and it takes it longer to come back up to a full card again.
Extreme hot temperatures cause evaporation, which can damage is the internal components of your battery. There is also overcharging when the temperatures outside get hot enough, leading to your battery dying.