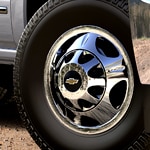 Boasting a powerhouse Duaramax V-8 engine and a whopping 36,000-pound towing capacity, the Chevrolet Silverado 3500HD is a textbook heavy-duty pickup. In addition to its class-leading capability, it also has a trend-forward suite of drive assist/safety features. Our AMESBURY CHEVROLET, INC. team selected a few such features for your info.

Assistance With Parking

Front and Rear Park Assist alerts you to proximal objects in front and back when you're parking, helping you avoid nasty dings.

Safer Lane Changing

Make safer, more timely lane changes in Amesbury with this feature. The Chevy Silverado 3500HD issues visual alerts in side mirrors when vehicles entire either of your blind spots.

Know What's Behind You

While in Reverse, this incredible pickup detects vehicles about to cross behind you from your left or your right. Left/right indicators shaped like warning triangles appear in the Rear Vision Camera screen. If equipped with a Safety Alert Seat, the Chevrolet Silverado 3500HD even delivers directional pulses and audible beeps.