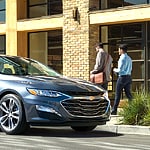 The new Chevrolet Malibu combines a luxurious cabin, sleek design, and a powerful engine with plenty of safety features focused on making driving easier.
Collision avoidance alerts are available for both the front and rear of the vehicle. Using sensors mounted on bumpers, pedestrians and stationary obstructions initiate both a warning and preemptive braking to avoid a collision. These same sensors can identify a vehicle in the blind spot of a lane you're planning to move into and sound a warning accordingly.
Adaptive cruise control keeps long drives around Amesbury, MA from becoming monotonous by taking over the distance adjustments necessary to maintain a safe space from surrounding traffic. The Chevrolet Malibu also makes maneuvering into a parking space easier once you've reached your destination. The automatic parking assist feature works with the driver to expertly position the vehicle in a challenging parking space with ease.